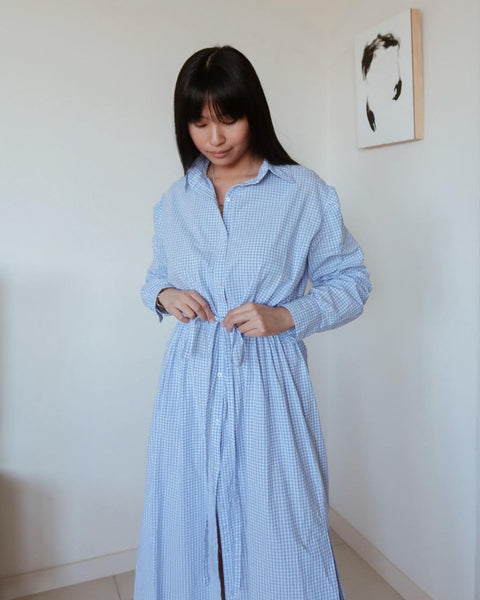 Our Pattern Testers Make The Ritual Dress & Shirt
What an overwhelming response we have had to the launch of the Ritual pattern! Thank you to everyone who has supported us and especially a huge thank you to our amazing pattern testers. We had so many talented sewists test the Ritual Pattern, it was such a joy to work with everyone. 
It was important to us to keep our commitment to an extended size range with this pattern. The Ritual dress & shirt goes up to 152cm/60inch bust, 136cm/54inch waist and 162cm/64inch hip. 
We also designed this pattern to give the community more than one style. In this pattern we have included 4 different styles, The dress, The dress, The shirt and the option to add a drawstring waist to both views.
I'd like to acknowledge the amazing testers below, please look them up on Instagram and engorge yourself in their fabulous makes!
Sonya is the queen of lilac! We love following along with all of Sonya's makes.
Sonya chose the Ritual View A (dress) with the drawstring option. 
Eva is an amazing sewist!
Here Eva chose to sew the dress view A and omitted the drawstring option. Eva also hacked the pattern into a shorter style which I absolutely love!
Kelly jumped out of her comfort zone as it was her first collard shirt! And what an amazing job she did. 
Kelly sewed up the shirt view B and omitted the drawstring option.
Love how Ash chose a more relaxed fit by omitting the interfacing in the collar. Perfect for laying over dresses in the summer. Ash chose view B shirt option and omitted the drawstring.
Wow this has to be one of my favourites! Kali made view A dress with the drawstring option. Just beautiful.
Felicity has the most beautiful taste in fashion. I love everything she makes! Felicity made view A dress with the drawstring.