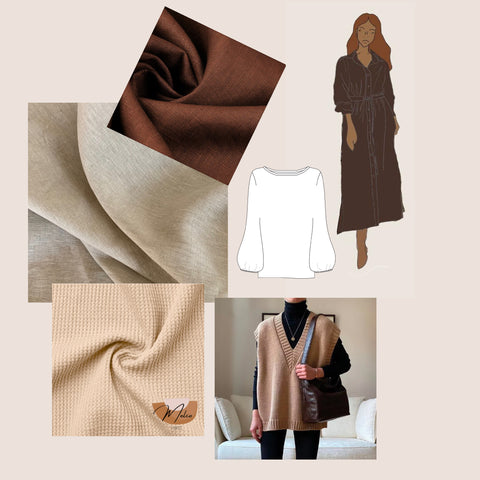 Winter Sewing plans
As the seasons change I need to swap my Lara Loungewear Shorts for some warmer styles. It certainly has started to get colder here on the Central Coast of NSW, Australia this week. Which has inspired me to plan out my winter sewing. The goal here is to go through my fabric stash and match it up with my patterns. This saves me from buying more fabric and finally using up what I have. I have most of the fabric I've noted below with the exception of one, so I'll be getting started this week on the pieces below. I'll be posting my updates on Instagram if you would like to follow on and see the evolution of these garments. 
I'm making this dress as a core piece of my winter wardrobe. It's perfect for work, or weekend and makes me feel "put together" without any effort. I plan to move the drawstring channel up an inch or so as I'm quite short. It sits a little better. I'll be styling this in the cooler months with boots and a coat so I can transition from day wear to night wear easily. I'm using a heavyweight linen which I find warm enough for the Central Coast weather.
I'm cheating a little here. I already have made the top last year in a white waffle fabric. I want to make a neutral set thats not matching. I have some lovely waffle in the colour way fawn, which is a light tan colour. Really beautiful from Melco fabrics you can view
here
. So I'll be using that on the pants to create a comfy relaxed set.
I love the high neck version of this pattern. I have some left over chocolate brown rib knit fabric that will perfect. The pattern only needs 1.2 meters of fabric so I should be able to squeeze it onto my scraps. I'm making this piece as a layering item, which is why I'll be making the cropped view. This view is perfect to put over dresses or team with my High Waist Pants. Plus I just love choc brown this season. View the rib knit fabric
here
. 
I'm stealing this look from my Mum. She made these in a buttery beige colour and they just go with everything. In winter they will look great with a big chunky knit or the Crew Neck Top pattern. I try to make some lighter colour pant options in winter to break up the blacks and darker tops I tend to reach for. 
Pattern Hacks we'll be making:
We've been wanting to do this one for a while. A simple hack of the
Velma Top
to create a vest. This will be so great as a layering piece teamed with the high waist pants pattern. I'm thinking a chunky knit or waffle will be perfect. In either light brown or white.
Thank you for reading, if you see me making something not on this list on instagram, be sure to tell me to get back on track!