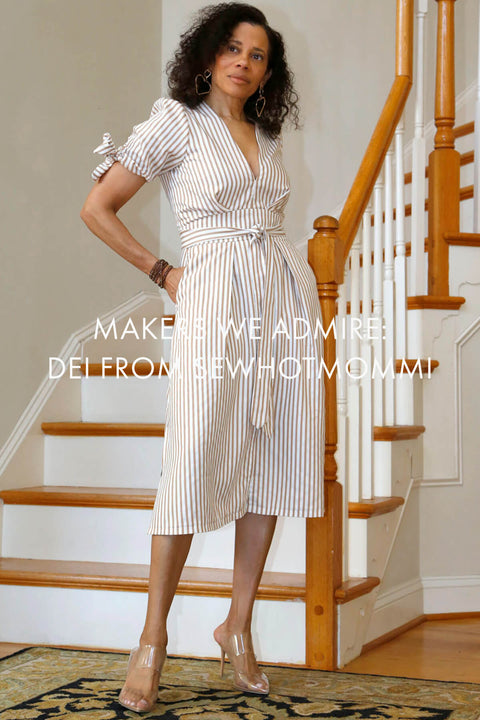 Makers We Admire: Dei, from Sewhotmommi
This week on Makers We Admire we have spoken with someone who makes me want to sew everything she makes! Dei, from @sewhotmommi.
Dei has always stood out to me by having such a chic, curated style. You can expect to see very clean lines and some beautiful pops of colour.  Not to mention her incredible sewing skills. Dei has a fantastic blog you can visit here. In the meantime get to know Dei a little better in our Q&A below.
Tell us your name & Instagram name? 
I'm Dei and you can find me on Instagram and other social media as @sewhotmommi.
Is there a person or a reason that made you begin your sewing journey? 
I began sewing purely because my Barbie dolls needed a more couture wardrobe, so my nine year old self became an ad hoc fashion designer.
Do you look for a pattern that will work for an idea you already have or do you browse patterns with an open mind? 
I do a little of both. Sometimes I'm inspired by a look I've seen and will select patterns to hack to achieve the look. Other times I will look through patterns I already have or what's new and use that to create.
We love how you style your sewing creations, do you always try to style your makes back with a certain trend or accessory? Or is it more how you feel when you wear the final outfit?
I definitely sew with a style in mind. I love looking at trends and letting that color what I make. But I am strategic because I like for the garment to fit into my existing wardrobe, so that usually includes accessorizing. I love shoes...who doesn't, so I'm always pairing them with my makes, even while I'm sewing. It's all about the vision. 
What has been your most satisfying make so far? And why?
Without question my most satisfying make has been my "Scandal Coat". I made this back when Scandal was huge and the character, Olivia Pope, would wear the loveliest coats. I made one in honor of her style. It took a lot of tailoring and time and I'm so proud of the skill set that I developed. Of course, I still wear it.
What part of the creative and practical sewing process do you enjoy the most?
I absolutely love the planning. I have a healthy fabric stash, so I will spend hours laying out my fabrics and developing a collection or theme. I then pair them with patterns that are on my radar. It's all about the excitement of potential. If I had to pick one part of the crafting process, it would be hand-stitching. It's so tactile and relaxing. It forces you to slow down and allows for ultimate manipulation of your fabric.
What is your favourite fashion trend at the moment?
Oh there are a couple...
Lounge wear i.e. comfy styles
Capes
Baggy/Mom jeans
Brown neutral tones (camel is my fave)
Do you have a favourite Swim Style pattern? 
I'm new to the company, but I'm so loving the "High Waist" pants pattern. I have the perfect fabric for it.