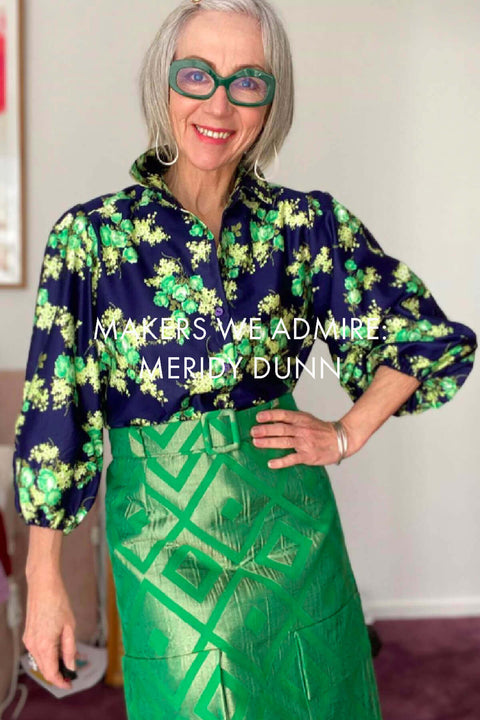 Makers We Admire – Meridy from Groovy Grey Look
To kick off the "Makers We Admire" blog series we have done so with one of our favourite people on Instagram, Meridy Dunn from @groovygreylook . Meridy's Joy for sewing and creating literally jumps through the screen in all her posts and we can't help but just feel energised when looking on. Meridy manages to bring colours together in a way I didn't think was possible and yet the final project is always stunning. You won't just find colours on Meridy's instagram but also an abundance of texture, prints and most importantly a hilarious sense of humor with a big smile. Get to know Meridy a little better in our questions below.
Tell us your name & Instagram name?  
Meridy Dunn @groovygreylook
Do you remember your first make? How did it turn out?
Yes. My mother bought me a pre-cut elasticated skirt from Woolworths. All I had to do was sew up the centre back seam. This was in the early 1970s, I was 10. 
How do you approach a difficult garment make?
Mmm slowly, if there are instructions I read them, and then I decide how I will sew it up. Once all the pattern pieces are cut out I pin them together, as if I'm about to sew. I find this always confirms how to tackle each piece and how it all fits together. 
Do you care about the finish inside your garment as much as the outside?
Yes, I like my finish to be nice, but not perfect. I am not a (There are sewing rules person!). My mantra is if you are sewing and make something you love, who cares what the inside looks like. I get really annoyed with the sewing police; they should mind their own business. There are a thousand ways to sew, you should just sew your way, and learn from others, the more you sew the more you learn. Importantly just enjoy making your own clothes.
What type of garment are you still working up the courage to attempt? If any?
Well now I'm actually working with stretch fabrics. I recently purchased a cover locker. I find stretch fabrics challenging but I am determined to make some nice pieces.
What type of fabrics / garments do you prefer to sew?
I love sewing easy stable cottons; however, I have a love of silk which can be challenging. I have sewn quite a few organza outfits; I have found this type of fabric relatively easy to handle.  
Do you have any favourite sewing influencers? 
Yes too many to name but my previous sewing teacher @judyjoysews , is an absolute font of knowledge and very inspirational. 
Do you have a favourite Swim Style pattern? 
I have to say the one which I have made. The One-Piece Scoop Back sewing pattern. I found the instructions and pattern fabulous. They were the only bathers I have made, but now I have my cover lock machine, watch out! I would love a decent 2-piece boy leg pattern. Not a bikini top but a tank top. Also, a one-piece boyleg, long sleeves swim/sunsuit. 
We noticed you are a student of fashion! Are you enjoying your studies, and would you recommend to fellow sewists in the community?
Previously I worked as a Registered Nurse, mostly in management, then I had a busy business for 15 years. I sold the business 3 years ago. Now I am a student I have this amazing opportunity to hang out with creative people and learn, learn, learn. I am like a sponge just soaking it all up. I would recommend study to anyone who has the opportunity. Never think you are too old to learn and grow. 
Are you sentimental about your sewing machines? If so, why?
Not really. I have a 25- year-old Bernina, which is my back up machine. Currently I have a B570 Bernina, a Bernina 800DL overlocker and as previously mentioned a Janome 2000 cover locker. I quite like the Industrial machines that I use at school, but I have no room for one at home, that might just tip my husband over the edge!