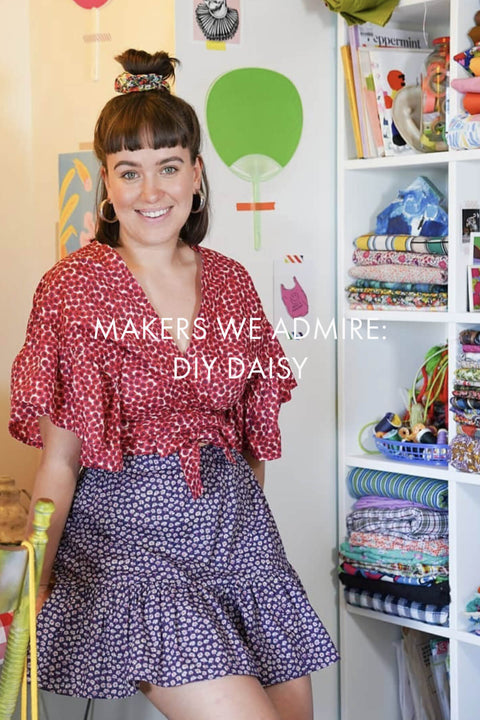 Makers we Admire: DIY Daisy
If you aren't already following @_DIYDaisy on Instagram, be sure to do so. This lovely lady will brighten your feed with inspirational sewing hacks and a whole lot of colour! Daisy has her own website where you can browse all her wonderful tutorials and hacks (you can view that here) I personally love how she clashes colours and prints together, I usually stick to a small colour palette but Daisy's pieces really make me what to try something new! She clearly has a passion for sewing, she even teaches workshops in her spare time (follow her Instagram for more info on this) and brings her humor and excitement to every make. A true believer in sustainability and upcycling, Daisy will take you through may of her thrift flips and encourage you to do the same. Get to know Daisy a little better below.
Tell us your name & Instagram name? 
My name is Daisy and my IG is @_diydaisy 
On your fantastic website www.diydaisy.com  we read how your Aunt helped get your sewjo back. Do you think you would be sewing like you are today if it wasn't for her? 
The has definitely been one of my biggest inspirations! I moved to NZ when I was feeling pretty lost and working with her reminded me of what I'm passionate about. If I didn't find her stash of remnants and offcuts I wouldn't have whipped up my first ever DIY Rectangle Top, one of my fav DIY creations.
What is your favourite fashion trend at the moment?
Baby doll dresses! I used to be super self-conscious about my legs but this year I've been embracing them and can't stop making short ruffley dresses.
Do you have any favourite op-shops/thrift stores?
I love the lifeline in Palm Beach, QLD. I've found some of my best vintage pieces there. I also love exploring across the border in Tweed Heads. Op Shop treasure hunting is the best!
When you are ready to start a new project, do you look for a pattern to suit a particular trend or look? Or do you prefer to draft/hack your own? 
I used to self draft and hack a lot but lately I've been trying out lots of new patterns. I feel like I've been missing out and each time I sew with a pattern I learn new things.
What has been your most satisfying make so far? And why?
My Psychic Outlaw inspired Bandana Dress was pretty satisfying. It was kind of like a jigsaw and the results are so amazing. I always get so many compliments when I wear it.
Is there a sewing technique you are aiming to master? 
Ive never learned how to sew in a zip properly. Thats up there at the top of my list.
I noticed you have self drafted a few items, how was that process? Did you enjoy it or would you prefer to buy a pattern?
Self drafting is exciting because you never know if your idea is going to work out. I think it's a great way to learn about garment construction.  
Your colour choices in fabric definitely influence me to branch out and be a bit bolder in my colour choices, have you always been bright and bold in your style?
When I was younger I was pretty colourful, I wore a lot of thrifted clothes and handmade creations. Then, I went through a phase of wearing a lot of black and white. That totally wasn't me and when I embraced colour I felt so much better. 
What do you love about the sewing community?
I love the connections I've made with creative people I met via the sewing community. Everyone is always open to share, give advice and encouragement.
Do you have a favourite Swim Style pattern?
I've never sewn swimwear but after seeing @sonya_lois sew up a bikini with your patterns almost 2 years ago now I've had it saved in my 'must make' list. I've just gotten my hands on some Liberty Swimwear fabric and I'm hoping to try and make myself a pair in 2021! I also have my eye on the Tallulah Tie Top, Im a huge fan of a tie front moment and this top screams summer!