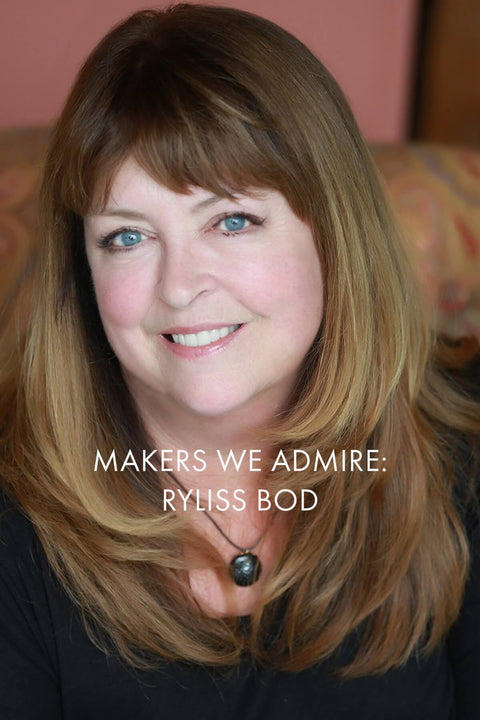 Makers we Admire: Ryliss Bod
This week we have spoken with one of the most informative people in the sewing community, Ryliss Bod. Ryliss has been teaching sewing skills for 40 years! Ryliss runs her very own sewing school in Tacoma, Washington, USA and has many amazing reviews from her clients. Be sure to follow Ryliss on Instagram here, she posts many instructional and enlightening posts about dressmaking, pattenr making, design elements and sewing skills. Don't worry if you are not in close location to Ryliss, she does sell some online courses and booklets on her website here. Ryliss has an incredible life story and a strong love for creativity, teaching, sewing, and fashion.
Hear more about her sewing journey below.
Tell us your name & Instagram name? 
Ryliss Bod, you can find me on Instagram here

How long have you been sewing?  
I have been teaching adults how to sew for 40 years, 32 of those years at a Technical College and 8 years running my own sewing school.
Do you remember your first make? 
A dress.  When I was 9 my mother went to the store and I helped myself to her cedar chest of fabric.  I laid out a dress pattern for myself on the fabric like I had watched her do and proceeded to cut out.  When she returned home, she said "I guess it's time to show you how to sew."
We love that your instagram focuses on sewing tips and shows a deep understanding of the technical side of sewing. Is sharing knowledge and helping other sewist a passion of yours?
I feel like this is my mission in life.
A student at Ryliss's sewing school
Do you have a favourite designer? 
Wes Gordon, Creative Director for Carolina Herrera.  His designs are beautiful and very wearable for all women.
Which international designer do you think has had the biggest influence in fashion trends throughout history? Why?
Christian Dior "New Look" is brought back time and time again.
How did you study, did you learn the craft self-taught or courses or learn on the job? 
I was lucky to have a mother who studied sewing in adult education classes and turned around and taught me what she was learning.  I was sewing lined jackets and dresses and hacking patterns by the time I was 13. I made most of my school clothes from 8 grade on.  I have a BA in Broad Area Art Education K-12 grades, 2 years of graduate studies in Clothing and Textiles and a Vocational Technical Education Certificate for Clothing Construction. During my tenure at the college, I continued to study sewing, pattern drafting and adult education to keep my certificate valid and up to date on the techniques.
Is it easier now, or back when you started your career?
Today you have an opportunity with the internet reaching every corner of the world. There are more schools to attend and fabrics being developed.  
What era in history do you feel would have offered the best opportunities to enter the clothing trade as pattern maker/designer? 
Today. After every major event in history there is a great change in fashion design.
Why did you decide to be sewing teacher?
After graduating from college, the Vietnam war had just ended and returning veteran were given first choice to interview for jobs.  Teaching jobs were scare for civilians, especially ones without experience.  So I joined the army with my husband for the GI bill and the experience. At Ft. Lewis in Tacoma, WA, I taught art in the 5 grade schools on post for a year, worked as the Art Director at the dependent's Arts and Craft Centre and 2 summers at the Dependent Youth Activity's Summer Camp teaching. While stationed in Alaska, I taught photography and Batik at the Arts and Crafts Center. I returned to college after serving in the military. I wanted to be more employable as a teacher and I decided to take classes in areas I really liked, one being sewing.  So I registered for a tailoring class and needed the permission of the instructor since I had not taken one pre-requisite class. I was allowed to attend one class and if I could not handle it, I could drop it without loss of tuition. I knew in the first half hour I wanted to teach sewing to adults. I have never looked back.