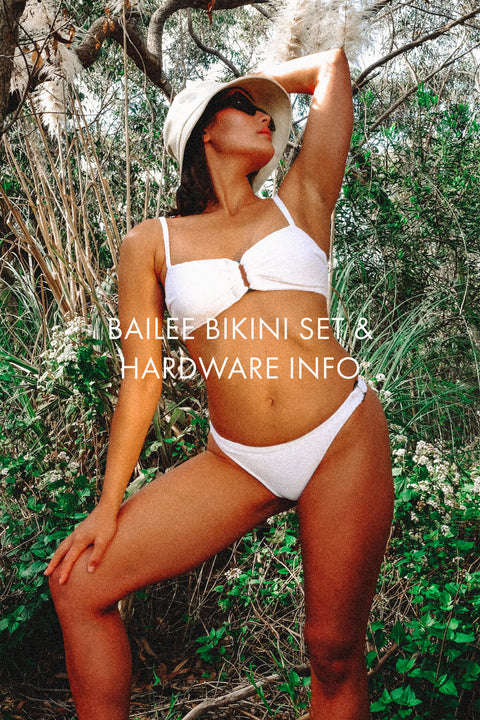 New Pattern: Bailee Bikini Separates & Hardware Information
Introducing our NEW  pattern: The Bailee Bikini Separates. In this pattern we really wanted to create a flattering top that was very supportive at the same time. This is how the two versions were designed. Both versions feature a center front detail on the top which creates a beautiful silhouette coming down in a wide V shape. The briefs are a slim line side and can be worn above or below the hip to create a different look. Both the top and briefs are in the separates category which means you can mix and match these tops and briefs with any other style in the mix and match category. Or any other Swim Style bikini pattern.
In this tutorial we will talk about the many possibilities and options of these patterns plus, a few tips on purchasing sliders & for the adjustable straps option. The beauty of separates patterns is that they open endless styling options also. We felt it was important to include both options in these patterns as not all of us will have access to clasps/rings to make version B. The Bailee bikini top & briefs patterns include 2 versions each.
---
 Version A
 Features a twist style loop feature at the center front while version B features a hardware clasp at the center front. The briefs are finished with seamless edges, again version A has no clasps while version B has claps on the side.
 Version B
 Includes clasp/ring feature at center front of bikini top. The bikini briefs feature clasps at the side seams. We have used the rectangle shape clasps & figure 8 sliders & rings for our Bailee bikini makes.
Clasps shapes and sizes recommended for the Bailee separates patterns.
You may not be able to purchase the exact size clasp as we have used in our instructions, which is completely ok! You can use different shapes of clasps, swimwear rings or rectangle clasps. Clasps and rings are measured by internal width & Height.
Bailee Bikini top clasp :
Ring shape recommended sizes internal width 35 to 50 mm / 1 ¼ to 2inches. The rectangle shape clasp we used in the images above size is: internal width 2cm / ¾ inch. Internal Height 4.5cm / 1 ¾ inches.
Bailee bikini briefs clasp:
 Ring shape recommended size internal width measurement of 25mm to 30mm or 1inch to 1 ¼inch. The rectangle shape clasp we used in the images above size is: Internal Width 14mm or 5/8-inch Internal Height 19mm or ¾ inch
Shoulder straps have two options
The Bailee Top pattern includes tie shoulder straps & adjustable straps. The tie straps option is a cute alternative if you cannot find the hardware to make the adjustable straps or if you like that style better! To make the adjustable straps you will need swimwear sliders & rings to match.
We have used size figure 8 style sliders size 12mm or ½ inch.
Slider Information
Slider shapes are made in many sizes & shapes. Slider sizes are measured by the internal width, you can always improvise if you cannot purchase the exact size & shape slider & ring recommended in the pattern instructions. In the photo above we have 5 different shape & size sliders. Our guide below shares info on each size and shape slider.
No 1 slider:  Not recommended for swimwear straps. This slider is very small with an internal width of6mm or ¼ inch. This makes it unsuitable for threading swimwear straps through. This slider is best suited to lingerie makes using fancy elastic straps.
No 2 slider: is also a lingerie slider, which we don't recommend. Larger size of 10mm / 3/8 inch. It possible to use this size lingerie slider if you make your straps without elastic inside. This will reduce bulk & there will be just enough room to slide the straps through the slider gaps. These sliders are quite common and easy to find. They are available in salt proof coatings. Check they are nylon coated or suitable for swimwear before purchasing. 
No 3 slider:  is designed for swimwear. This shape is available in various sizes. This one is 10mm or 3/8wide internally. This shape slider is highly recommended and easy to thread swimwear straps through. I would recommend using 6mm or ¼ wide elastic inside the swimwear straps to suit these sliders.
No 4 slider: Figure 8 design sliders are highly recommended for swimwear straps. The internal width12mm. We recommend using 6mm or ¼ inch wide elastic inside the straps to suit these sliders. This is the actual slider we have used in our Bailee bikini makes.
No 5 slider:  Figure 8 design sliders are highly recommended for swimwear straps. The internal size of this slider is 15mm. If you wanted to make a wider strap style and use 12mm or ½ wide elastic this would make for a supportive shoulder strap.
Swimwear Rings: purchase the matching size ring to your slider.
Where to purchase hardware
If you like the hardware/clips used in our images you can purchase this set directly from our Etsy site here. Unfortunately we are only able to accomodate this for people in Australia, for now we are not able to send these internationally.  Our apologies! 
Sewing information
Both Bailee Top Views A&B:
The back is simple with no clasp and wide enough to feel incredibly supportive. 
The top is fully lined with an extra layer inside front section to create removable cups lining.
Bust pleats are included at side seams to add shape.
The lower edge is simply turned under enclosing a 12mm or ½ inch wide elastic
The Bailee Bikini Briefs:
The Bailee bikini briefs are cut quite high with a mid-cheeky cut at the back.
All edges are sewn with a seamless finish.
It's important to note the linings are smaller than the outer fabric sections, so take care when you cut out your pattern pieces.
Be sure to check you are cutting out the correct version A or B